The following test script (RDPServices.ps1) works on the RD-Connection Broker (Windows Server 2019-1809) with both Windows PowerShell (5.1) and Certify The Web (5.4.3) without any problems:
Import-Module RemoteDesktop
$Password = ConvertTo-SecureString -String "123" -AsPlainText -Force
Set-RDCertificate -Role RDWebAccess -ImportPath "C:\Program Files\CertifyTheWeb-Scripts\cert.pfx" -Password $Password -ConnectionBroker "srv.domain.at" -Force
On member servers, the script only works with Windows PowerShell.
With Certify The Web I get the following error message: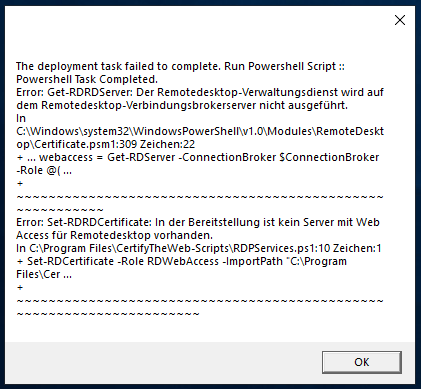 The authentication in the deployment task is Domain-Administrator,
the impersonation logon type is Batch.
Maybe someone has an idea how to solve this problem.
Thank you and best regards
Dietmar